KWiCFinder Report Formats
---
After each search KWiCFinder produces a report showing excerpts of matching online documents with your search terms highlighted in context. These interactive reports can be redisplayed in various layouts and languages, and the user can edit and annotate them, then export them to HTML files (web pages) for further study.
Review these examples from a single search for the word "KWiCFinder" redisplayed in various formats. The actual search report is encoded in XML, while the combinations of layouts and languages you see here result from applying different XSLT "style sheets".
Top | XML | KWiC | Paragraph | Table
XML Format
Fragment of the XML file which produced all these reports. Note the intuitive tags which identify the data fields in the report. An XSLT "stylesheet" then transforms this into HTML for display in KWiCFinder's report window or a browser. Other stylesheets could merge reports, reformat them, or extract specific data from these search results.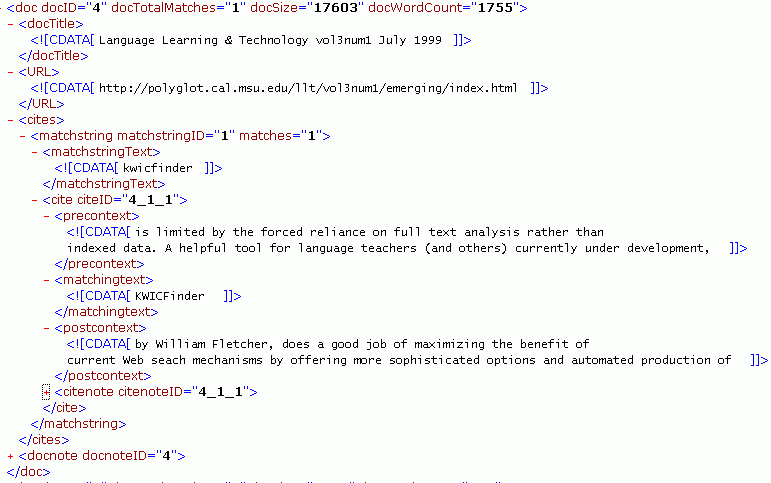 Top | XML | KWiC | Paragraph | Table
Key Word in Context Format
Search terms appear aligned and flanked by context. The highly interactive "KWiC Sort & Analysis" format offers numerous functions and options for linguistic analysis. Click here for complete details of this powerful report option.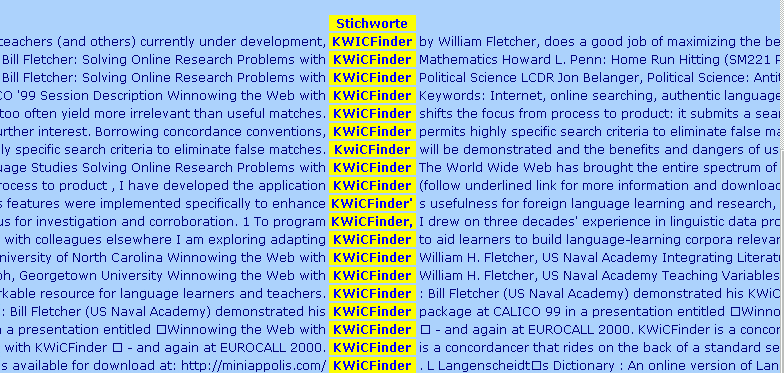 Top | XML | KWiC | Paragraph | Table
Paragraph Format
Search terms highlighted by yellow background

Top | XML | KWiC | Paragraph | Table
Table Format
Search terms set off in separate column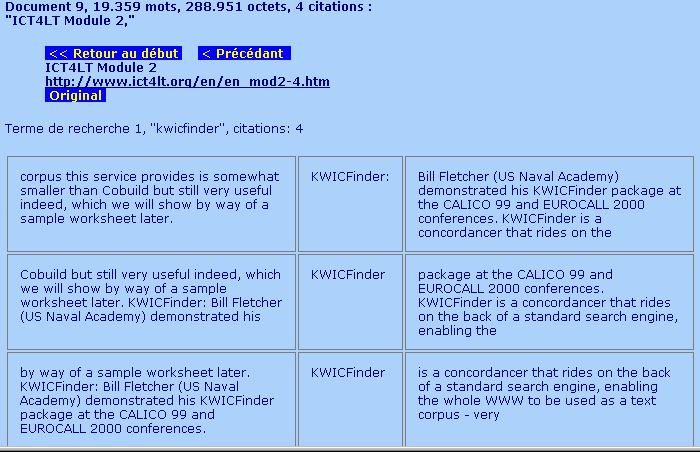 Top | XML | KWiC | Paragraph | Table
---
miniAPPolis Home | KWiCFinder Home
Screen Shots | Report Formats | Sample Search Reports
Download KWiCFinder | Register Interest
Support | Forum
| | |
| --- | --- |
| Feedback to | Questions or Suggestions |
| Author | William H. Fletcher |
| Version | 19 July 2001 |
| URL | http://miniAPPolis.com/KWiCFinder/KWiCFinderReportFormats.html |